Credit: Town Landing Market
Cumberland and Falmouth share the legacy of fine homes and beautiful views of Casco Bay. Residents enjoy the quiet, rural feel that spans these high-quality neighborhoods long connected to the sea and farming.
Small, affluent, and quaint communities
Cumberland evokes the bucolic feel of rolling green hills across rural Maine with close proximity to Portland. Located 11 miles northeast of Portland and just a short, 15-minute commute away, Cumberland is a close-knit coastal community nestled along Maine's southern edge with a robust agricultural history that still rings true today. Falmouth, to its south, is even closer to the bustling Portland area.
Cumberland and Falmouth pride themselves on their small communities, top-ranked school systems, and abundance of activities ranging from outdoor concerts to community parades.
A glimpse into the Foreside
​On the eastern, coastal side of these towns is where you'll find Cumberland Foreside and Falmouth Foreside, two of the most sought-after communities in Greater Portland. From sprawling seaside estates, small businesses, and homesteads to close-knit neighborhoods, the Foreside is a special part of Cumberland and Falmouth with both coastal land and rural beauty.
Both historic and modern properties line the streets of the Foreside, which feels like a world away from bustling Portland, Maine, just two exits away on Route 295. Picturesque Route 88 rides parallel to the rocky coastline through forests and scenic neighborhoods with breaks in the trees yielding vistas along the sailboat-filled bay.
Both historic and modern properties line the streets of Cumberland Foreside, which feels like a world away from bustling Portland, Maine, just two exits away on Route 295. Picturesque Route 88 rides parallel to the rocky coastline through forests and scenic neighborhoods with breaks in the trees yielding vistas along the sailboat-filled bay.
The median home price in Cumberland Foreside is $938,995, while the US median is $376,286. According to data, even homes in areas with similar populations to Cumberland Foreside cost much less, including Audubon Park, KY, and Bloomfield, NE. The average home price in the state of Maine sits even lower on the scale at just $281,908. In Cumberland (04021), the median home price is $585,760.
The Foreside offers some of the local market's best and most desirable neighborhoods where low crime rates and an elevated quality of life appeals to those who can afford more.
Farmers Club and the Cumberland Fair
The Cumberland Farmers Club began in 1868 and still hosts one of Maine's largest agricultural fairs: The Cumberland County Fair, always the third week of September.
This week-long annual celebration of education and agriculture features fireworks, live bands, professional rodeos, harness races, livestock shows, and food and merchandise vendors.
Sweetser's Apple Barrel & Orchards and Spring Brook Farms remain the cornerstones of this farmer-friendly community.
Recreation in Cumberland
In 2014, the Town of Cumberland purchased Broad Cove Reserve, part of a former privately owned property, allowing public water access to the town complete with a beach and pier. This purchase consists of 11 acres along Casco Bay complete with 2,200 feet of water frontage, 9 acres adjacent to Route 88, and an existing gravel roadway connecting the two lands.
Cumberland is also home to Golf Digest's "Best Municipal Course in Maine": Val Halla Golf and Recreation Center. This exceptional 18-hole course includes a driving range, putting greens, pro shop, and casual dining. From professional lessons to individual tee times, couples' scrambles, and Sunday tournaments, expect no shortage of programs to satisfy your love of the game.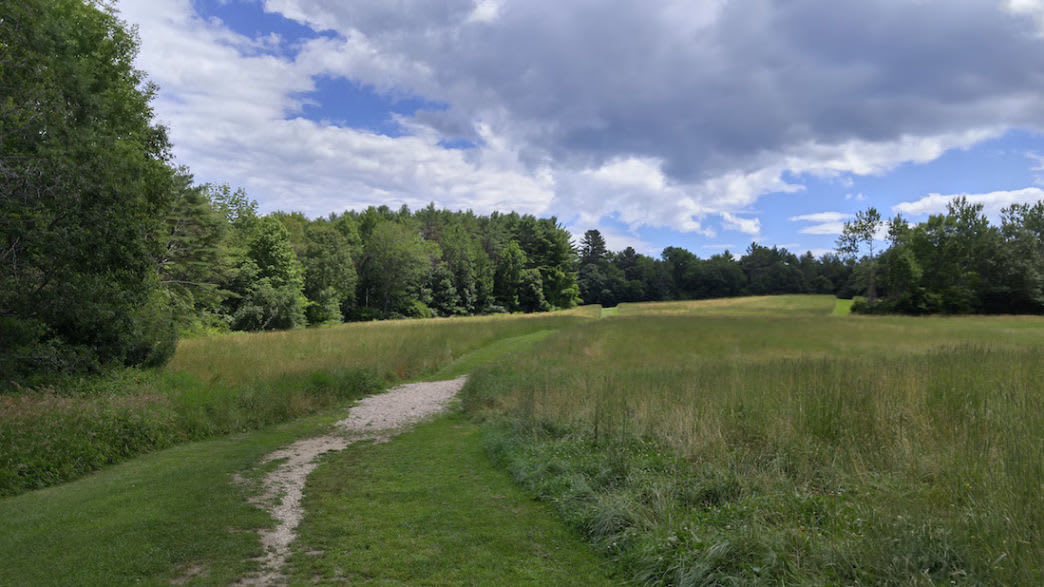 Twin Brook Recreation Facility is another town staple located in the center of Cumberland that is complete with over 250 acres of stewarded, multi-purpose land. Discover multiple trails for a leisurely stroll or get your heart pumping with soccer matches, baseball games, and cross-country running events. Trails are groomed in winter for cross-country skiing.
A stellar education system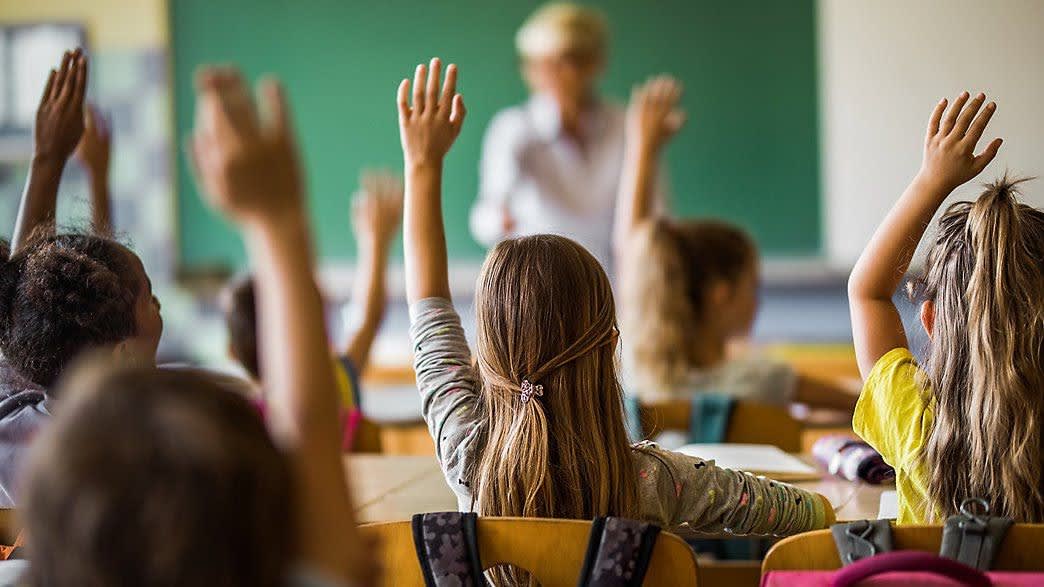 Discover neighborhoods rich with not just exclusive seaside homes and estates, but also an excellent school system. The Maine School Administrative District 51 (MSAD 51) serves the towns of Cumberland and North Yarmouth including Cumberland Mabel I. Wilson Elementary School, Greely Middle School, and Greely High School (GHS) for local public options. GHS is accredited by the New England Association of Schools and Colleges and recognized as a National School of Excellence by the US Department of Education for exemplary learning and a high rate of college matriculation. US News and World Report named Greely High School the best in the state in 2020 and 2021.
Get to know Falmouth
Just north of Portland, the state's largest city, is where you'll find the renowned, vibrant, and beautiful seaside community of Falmouth, which is home to many fine oceanfront homes and Town Landing, the largest anchorage in Maine with a public pier, boat launch, sandy beach, market, and breathtaking Casco Bay views. Discover a rich mix of gorgeous coastline and sprawling rural areas with quaint stores, town restaurants, and top-rated schools. Falmouth ranks as one of the best school districts in the state of Maine.
Residents can spot Portland's city lights sparkling in the distance while remaining tucked away in the quiet stillness of Maine's rural coastline in Falmouth. The town covers about 32 square miles of rocky coast and rural inlands including one of the most beautiful drives in the country, Route 88. More than just an excellent choice for a stop on your Maine road trip, Falmouth offers residents a truly great place to live.
Homebuyers who desire an upscale lifestyle will find the most desirable areas along the eastern areas of Falmouth, while homebuyers on a budget will fare better along with the western areas. The median listing home price in Falmouth was $667,000 in November 2021, trending up 11.2% year-over-year, with a price per square foot of $257. The 04105 zip code has a median listing home price of $669,000, making it the most expensive city, while Westbrook is the most affordable city with a median listing home price of $329,000.
You'll also discover diverse real estate options in the northern suburb across the bridge from Portland. The relaxed and upscale oceanfront Falmouth Foreside is an active, family-oriented community. The area offers thriving dining, shopping, and recreation including indoor and outdoor ice rinks. Navigating the centrally located area is a breeze with proximity to Route 1, 295, and the Maine Turnpike.
Recreation in Falmouth
Acclaimed for three quality, private, and championship golf courses and country clubs, Falmouth is home to PGA Senior tour events. The Woodlands Club also offers year-round tennis programs, swimming and fitness facilities, squash and racquetball courts, and recently renovated lounge and fine dining areas. Here, you'll find gorgeously manicured grounds, robust sports facilities, and, of course, challenging but enjoyable fairways for a round of golf.
Adjacent to Falmouth Foreside is where you'll find the venerable 18-hole golf course at Portland Country Club surrounded by beautiful views of Casco Bay. PCC's management and preservation of the environment made the private golf club the first in Maine to be recognized as a Certified Audubon Cooperative Sanctuary by Audubon International.
Credit: Portland Country Club
Falmouth Country Club is another championship 18-hole golf course. This club also offers practice areas, tennis courts, food options, a fitness center, and an outdoor pool.
For more picturesque views of Casco Bay and the shipping channel, head over to Portland Yacht Club, where races, cruises, the nationally acclaimed Junior Sailing Program, and other seasonal events take place throughout the year.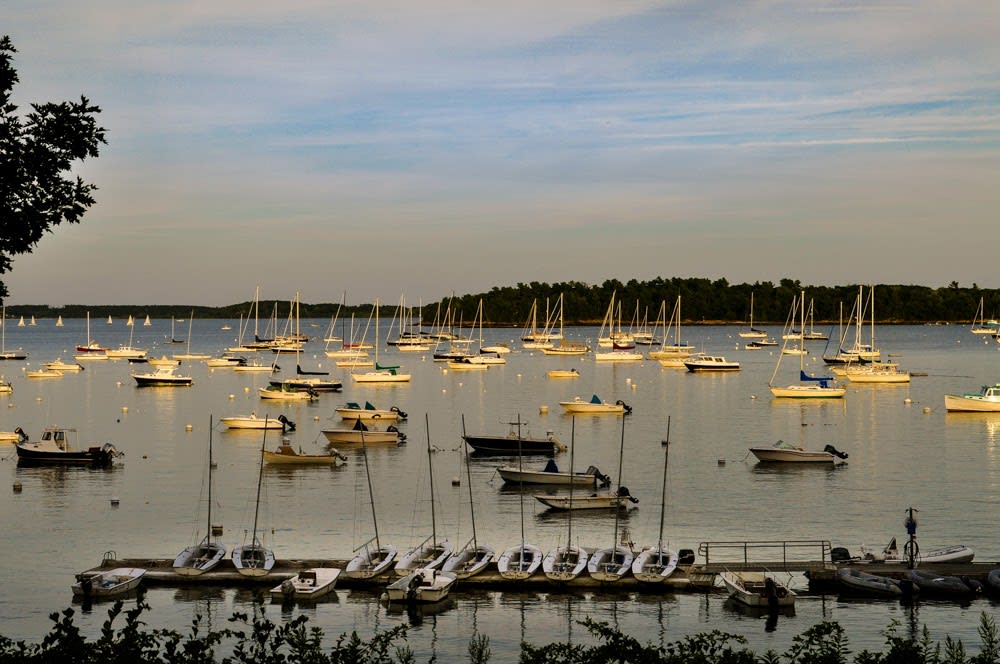 Credit: Portland Yacht Club
Located in the center of town, the Falmouth Shopping Center offers conveniences including an exceptional retail shopping and dining complex.
Education in Falmouth
Discover one of the finest school systems in Maine, including Falmouth Elementary School (Grades K-5), Falmouth Middle School (Grades 6-8), and Falmouth High School (Grades 9-12). From standardized test scores to college matriculation, FHS consistently ranks near the top of the high schools in the state. Students will find a mix of highly recognized and championship athletic teams and performing arts programs that have earned both regional and state awards.
Here, students are encouraged to cultivate courageous and creative approaches to critical thinking, ultimately fostering a lifelong love of learning.
If you're interested in finding a home in this quiet, high-end area of Maine, reach out to Emilie Cole. As a third-generation Realtor with extensive knowledge of the Falmouth and Cumberland area, she can guide you toward the perfect Maine property for you and your family.