Whether you're visiting Yarmouth for its great outdoor attractions like the Royal River Park and Little John Island Preserve, or you're looking to make this town a more permanent home, the food scene here doesn't disappoint. Make sure to dine at these five top eateries when searching for homes for sale in Yarmouth.
The Garrison

81 Bridge Street

Yarmouth, ME
A restaurant you don't want to miss while in Yarmouth is
The Garrison
. Opened in 2019, this intimate restaurant's prime location alongside the Royal River is only one of the things that makes dining here a high-end experience. This restaurant sources its ingredients from its personal riverside gardens, as well as local farms and sustainable fishmongers. Guests can count on finding something new to love at this restaurant, as The Garrison features a frequently changing menu of Asian and Mediterranean cuisine.
Diners visiting this eatery for dinner can enjoy a range of fresh seafood options representative of its seaside location, such as the Maine lobster in a coconut curry broth or the bluefin tuna with blistered shishito. For those who aren't seafood fanatics, plates like the slow braised pork belly, stuffed with herbs and citrus, are just as satisfying. Don't forget to try one of their creatively named cocktails, like "the dude abides," a chocolatey dessert drink.
Royal River Grill House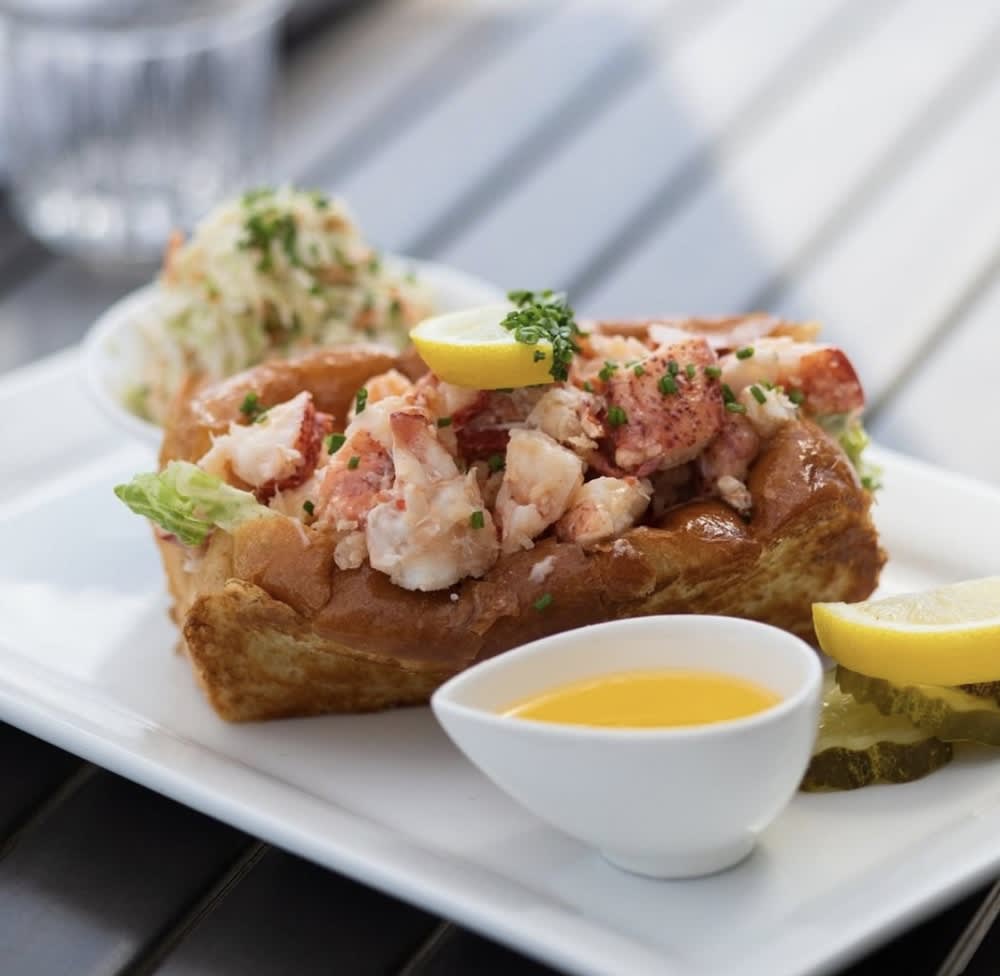 Photo courtesy of Royal River Grill House
106 Lafayette Street

Yarmouth, ME
Another great spot around Yarmouth real estate is the
Royal River Grill House
. This spot is open for lunch, dinner, breakfast on Fridays and Saturdays, and brunch on Sundays. The menu offers a wide selection of fresh seafood, Maine draft beers, and curated wine and craft cocktails for its guests to enjoy. Boasting great waterside views, diners can enjoy a meal inside their warm, light wood interior or order a dish to eat outside on the stone-pathed lawn.
Breakfast visitors can enjoy hearty entrees like the lobster omelet or the crab cake benedict, perfect to fuel up for a day out. For a late Sunday start, brunch-goers can order a range of entrees like the steakhouse poutine or an item from their raw bar. The lunch options are just as delicious, with appetizers like the Maine crab cakes and crispy Korean pork belly the perfect starter for main entrees like the filet mignon. The dinner features some recurring lunch items, as well as new appetizers like the bluefin poke, and house specialties like the lobster and sausage pasta.
Owl & Elm
Photo courtesy of Owl & Elm

365 Main Street

Yarmouth, ME
The
Owl & Elm
is one of Yarmouth's best pubs, located in the Upper Village. This food-forward eatery puts a contemporary twist on its menu of classic comfort foods. Everything at this restaurant is made from scratch, and is a perfect place for guests to enjoy with family, catch up with friends, or get to know the community. Guests looking for a place to eat dinner can count on the welcoming light painted exterior of this restaurant and the exceptional, neighbor-friendly service.
To start a meal, diners can enjoy starters like the falafel board with whipped feta and Greek olives, or opt for something more savory like the BBQ pork fries. After, main dishes like the pork Milanese, made with crispy pork tenderloin and topped with citrus vinaigrette, are stand-out options. A dinner at a pub is incomplete without a foamy drink, and guests can select from a variety of draft and bottled beers. End your meal with something sweet, like their brownie sundae with house-made ice cream.
Gather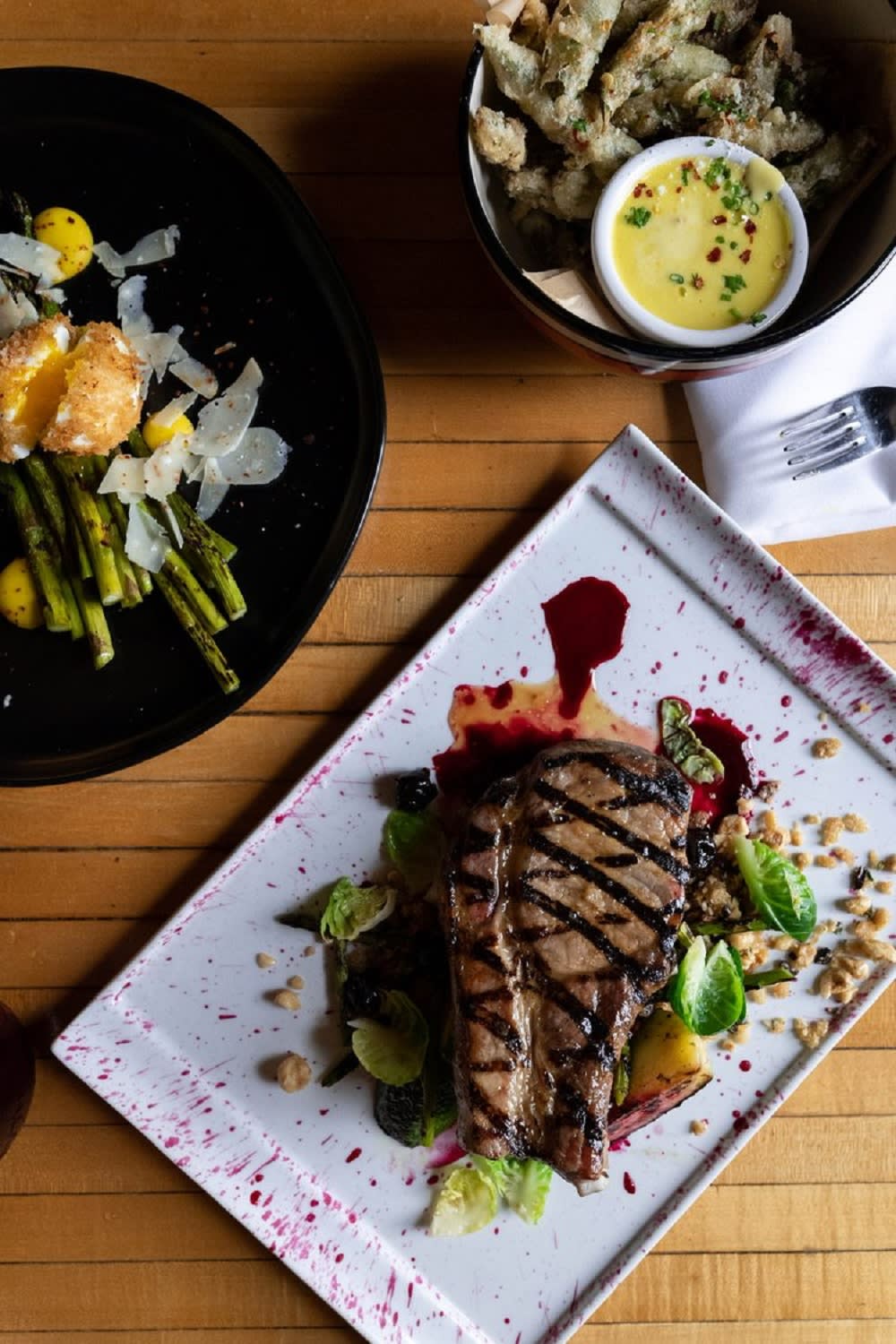 Photo courtesy of Gather

189 Main Street

Yarmouth, ME
When searching for homes for sale in Yarmouth, stop by
Gather
for some great seafood selections. Located in the Masonic Hall, this neighborhood eatery spotlights Maine's ingredients and the changing seasonality of its menu. Guests can make a reservation to eat dinner inside or outside from Wednesday through Saturday. Its cozy yet upscale interior, long dinner table seating, and open kitchen view makes it an exciting place to dine in. Or diners can enjoy the beautiful Maine scenery from its wrap-around porch.
Guests can enjoy starters like the smoked chicken toast, cooked in a honey-bourbon glaze and topped with candied cashew. Or they can whet their appetites with the ricotta stuffed squash blossoms, battered in tempura. For main meals, diners can order plates like the Gulf of Maine salmon, served with a corn puree and chimichurri. Also a great option is the farmer's gate grilled Maine pork, served with pomegranate cherries and a hazelnut-thyme crumb. Don't forget to try one of their delicious craft cocktails or draft beers to accompany your meal.
Muddy Rudder

1335 US-1

Yarmouth, ME
Open since 1976,
Muddy Rudder
is a staple lunch and dinner spot around Yarmouth real estate. This restaurant's name is inspired by local lore of the tugboat Portland landing on Yarmouth's shores. Located right next to the river, this eatery uses fresh and seasonal ingredients in its changing menu. Muddy Rudder also features Muddy Market, a local market that offers high quality seafood, meats, and baked goods for guests to use in their home dishes.
Guests can enjoy starters like the mussels tossed in scampi butter and chorizo before digging into main meal options like the seafood stuffed haddock with lobster sherry cream sauce or the braised pork shank with bacon-bourbon onion jam. Or guests can order pasta dishes like the creamy risotto and their choice of protein, whether they choose the steak tips, short rib, or fresh lobster meat. Don't forget this long-standing restaurant when in the area.
Ready to try these eateries?
Are you planning to be in Yarmouth to check out homes for sale or just a little summer getaway? If so, check out the restaurants above to taste the local cuisine and relax in one of the most laid-back areas on the Cape. Want to look for homes but don't have an agent yet? Reach out to Yarmouth real estate professional
Emilie Cole
for guidance.